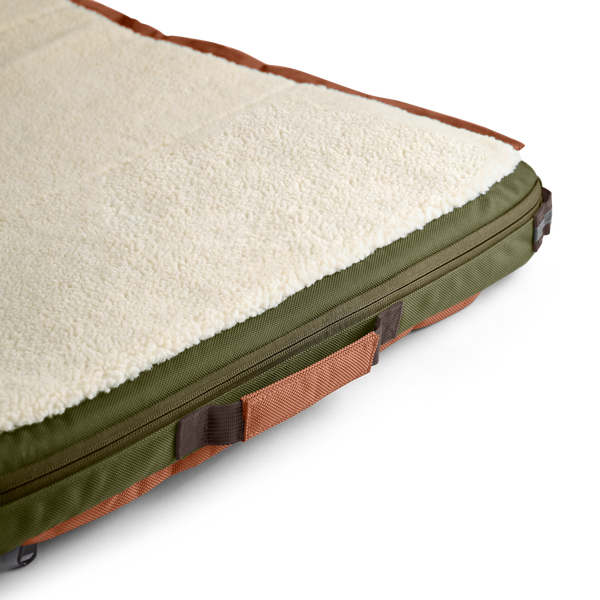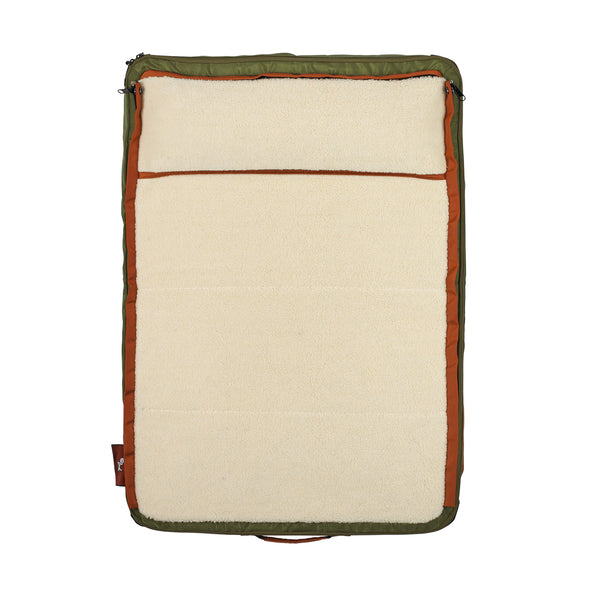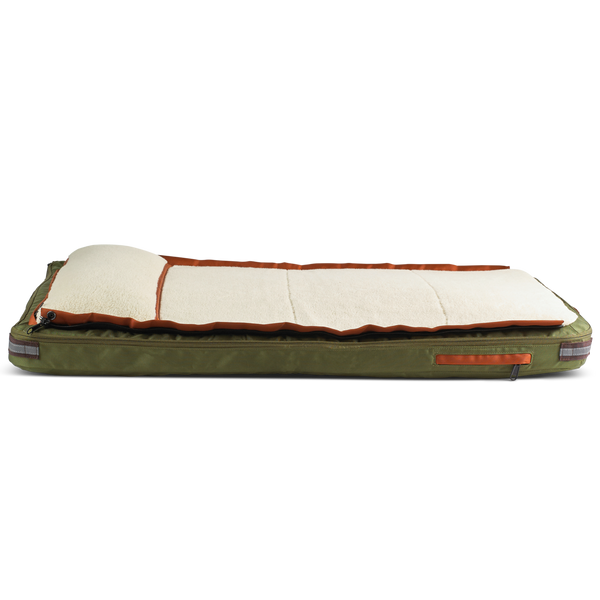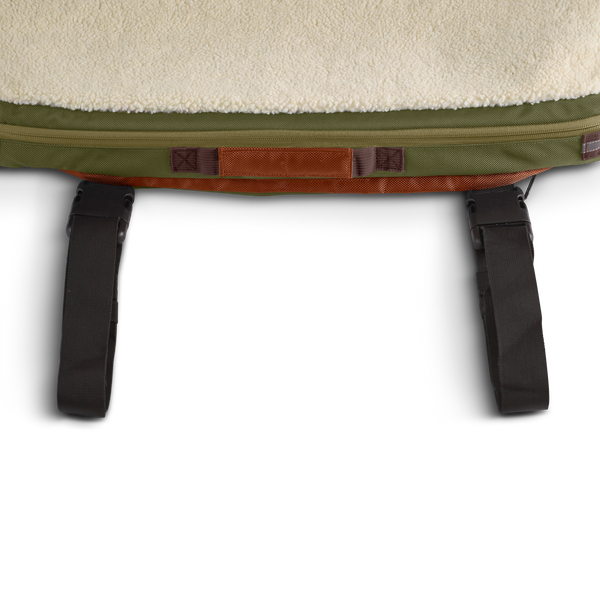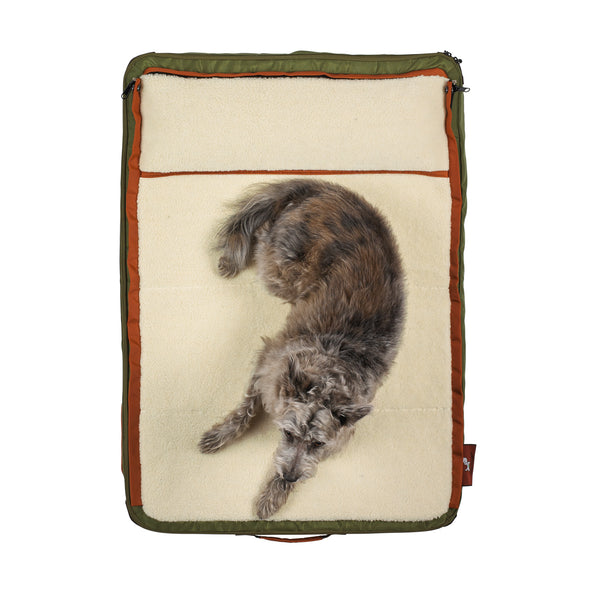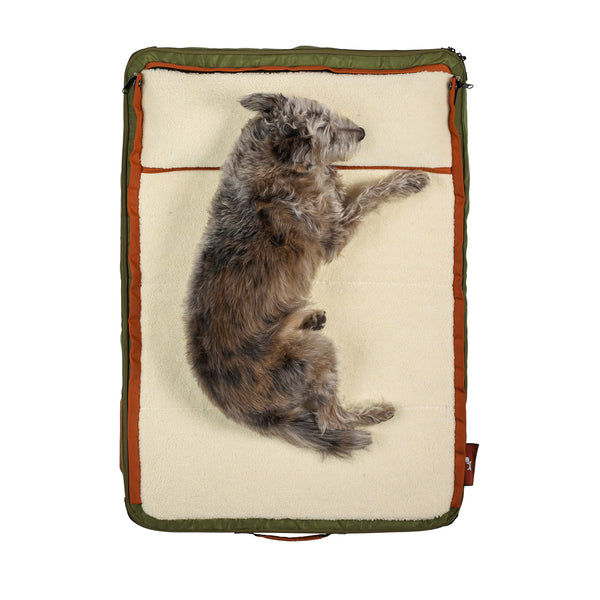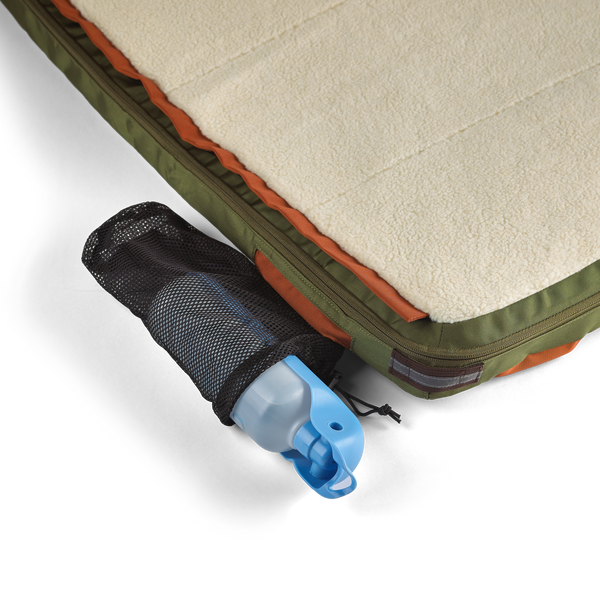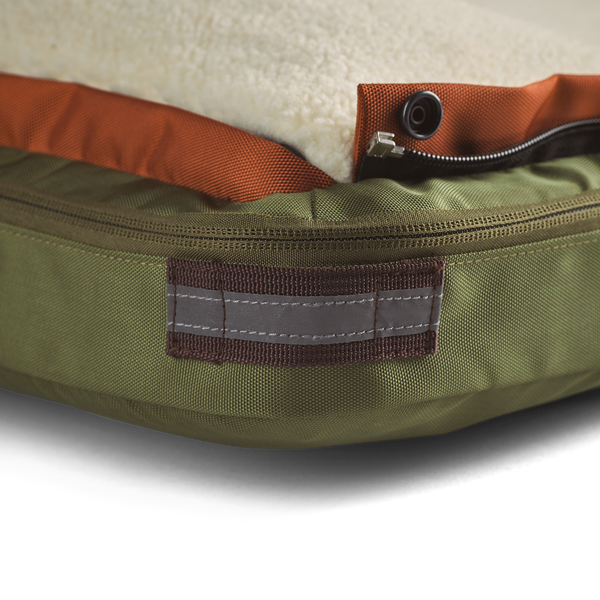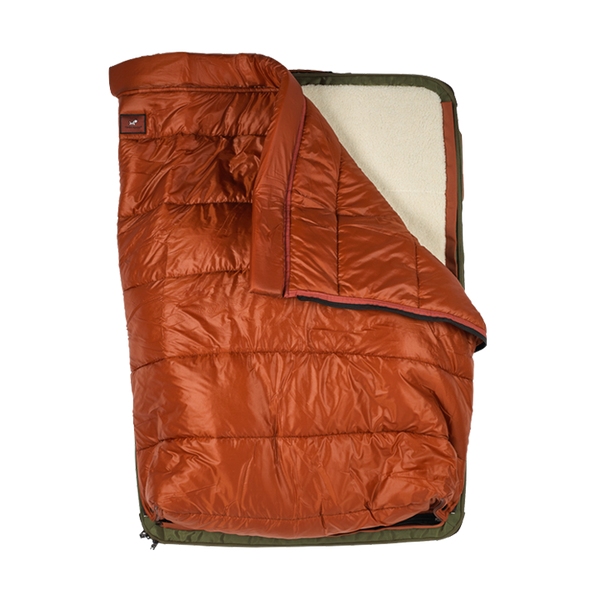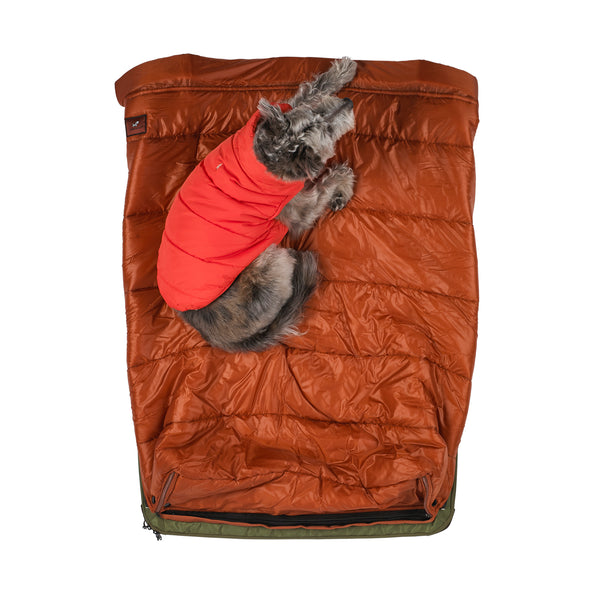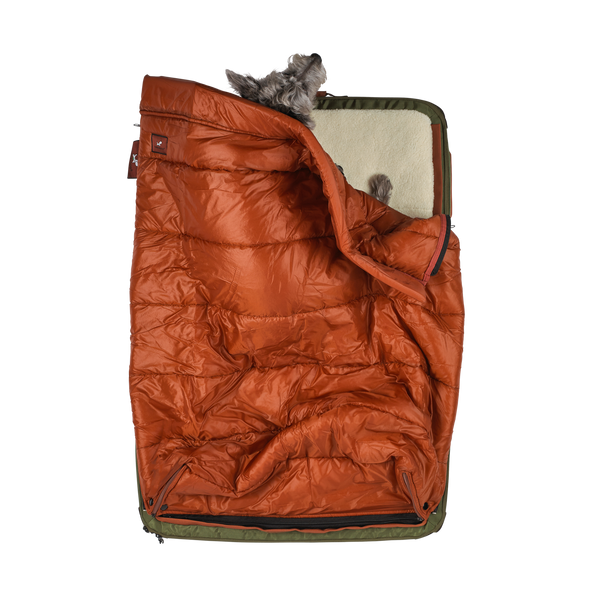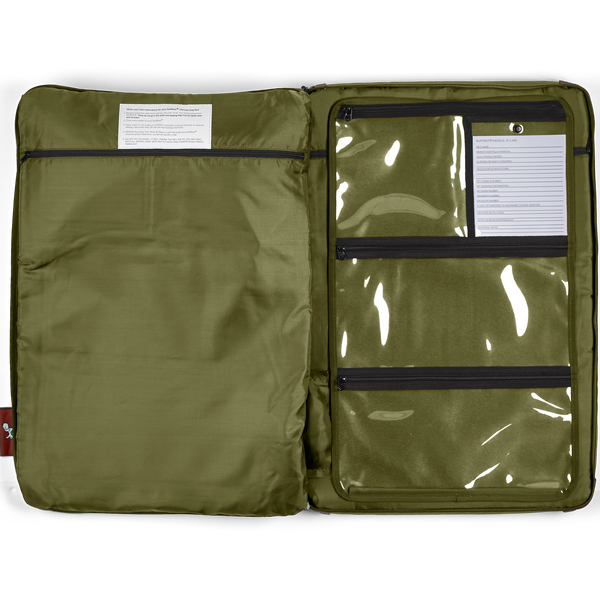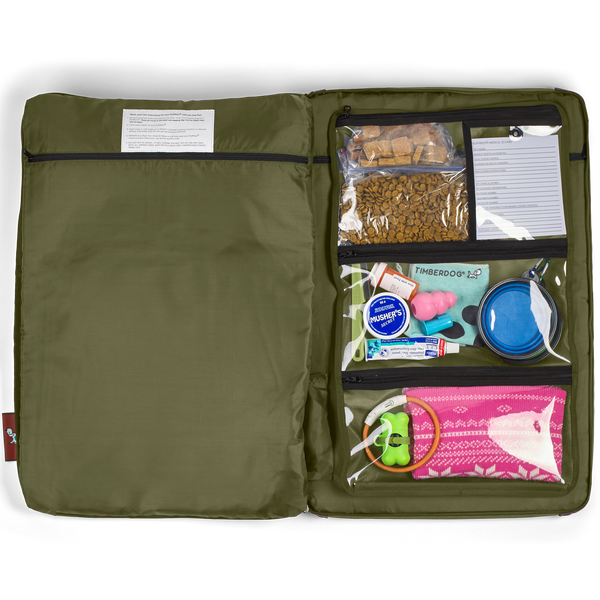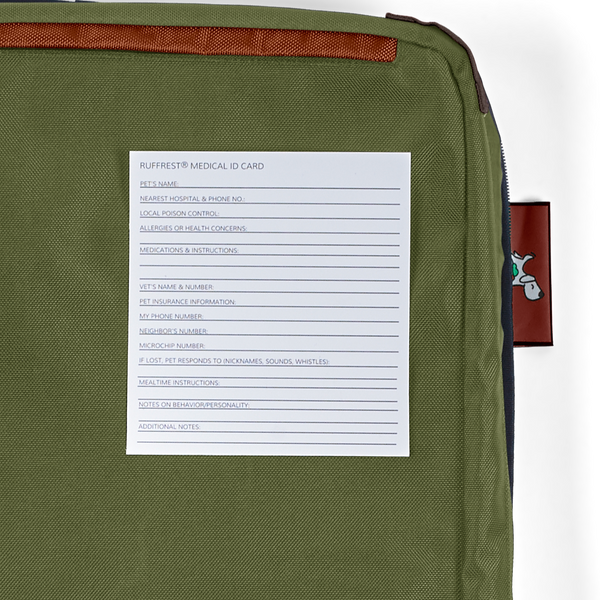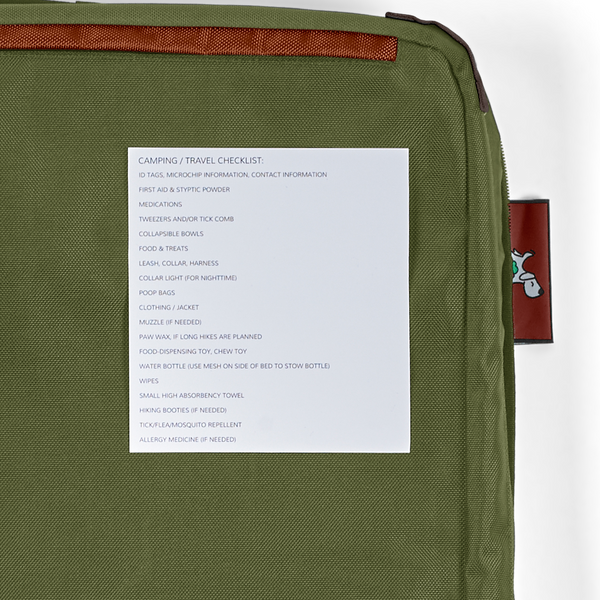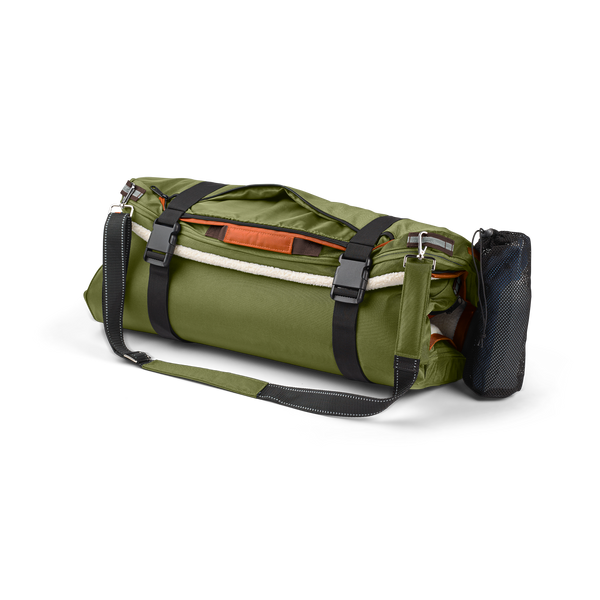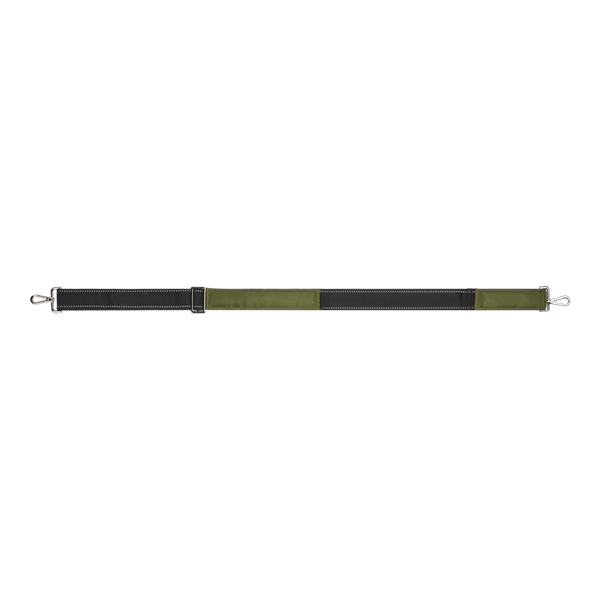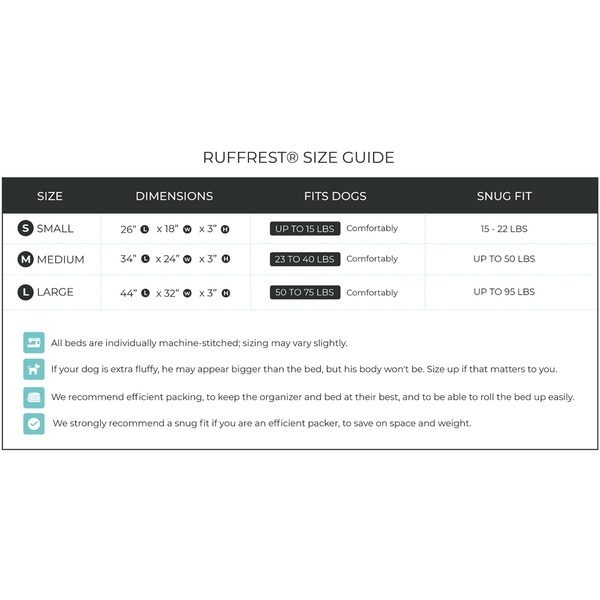 Introducing RuffRest® Camptastic - a nostalgic color combination with a cream sherpa fleece, Douglas fir-green fabric, redwood trim, and teak accents. 


Specifications:

Weight: Small 4.5 lbs // Medium 6.6 lbs // Large 10.4 lbs

Built-in, modular, 3-season sleeping bag with temperature control vents (*Not for temps colder than 55° F/13° C*)
Hangable, at-a-glance organizer with large pockets to pack your pet's things
"See-at-night" reflective loops to hang up the bed or attach carabiners
Zipper hood trim throughout to protect your pet from zippers

Dedicated inner space that turns your pet bed into luggage

Shoulder strap that doubles as a reflective safety leash

Compression straps (*Only in medium and large beds*)

Medical/Emergency ID Card with Travel Checklist

Removable inner foams with water-proof covers

Dedicated pocket for all included straps
900D moisture-repellent nylon
Easy-to-clean sherpa fleece
Water bottle mesh pocket

Padded carry handle

Tough YKK zippers
Bolster/pillow.









Tags: best dog bed for small dogs, best dog beds for small dogs, best dog bed for medium dogs, best dog beds for medium dogs, best dog bed for large dogs, best dog beds for large dogs, pet bed for small dog, pet beds for small dogs, pet bed for medium dog, pet beds for medium dogs, pet bed for large dogs, pet beds for large dogs, pet bed for small dog, pet bed for medium dog, pet bed for large dog, dog bed for small dog, dog bed for medium dog, dog bed for large dog, bolster, dog bolster, best dog blanket, best dog blankets, dog sleeping bag, cave dog bed, best rated dog bed, top rated dog beds, cute dog beds, dog pillow
Best dog bed ever, from a product tester
This is one of the very few products i've owned that actually lives up to the hype. Two thumbs up, way up! wish it were affordable enough to gift to all of my friends and family with dogs but honewtlsy you have to be a lover of gear, into quality products, and spoil your dogs to appreciate this gem. I own two ruff rests. Full transparency, I was given a deep discount on the second pet bed as i'm a product and stress tester, but now that I've used these dog beds for a while, I can say that they're worth the price of admission. You really do get what you pay for in life.
Meh
I could have designed something better. It's too much effort to return it, so I'm keeping it for now and may update my review in the future but i doubt it
Hi Bob, we'd love any suggestions you may have to improve our product. Please let us know what aspects need improving at hello@timberdog.com. Thanks!
Cool product
INterested in seeing where this company will go. Some of the features like the water bottle pokcet may be unecessary but they work and are nice to have. I guess if people didn't want all these features they wouldn't buy this dog bed. Interested in seeing what else these guys come up with. I'm on board for now. I own the medium ruffrest for my frenchie and it's a great size for her as she likes to sprawl out. Colors are nice too. Annoying that they are still doing preorders and it took forever for my pet bed to get here, but maybe that's a minor quibble. Removing one star for how long it took to get my pet bed from time of order.
Hi Frank, we deserve that. We're a small company and this batch is our very first order, so we had to make sure everything was perfect, while also dealing with Covid shortages and shipping times. We hope to make it up by offering even more innovative products in the future with streamlined shipping times. Thanks for your review; we will strive to do better going forward.
Great company
Love my Ruff Rest and love that this company plans to plant two trees for every Ruff Rest sold. Hope they find a tree-planting partner soon.