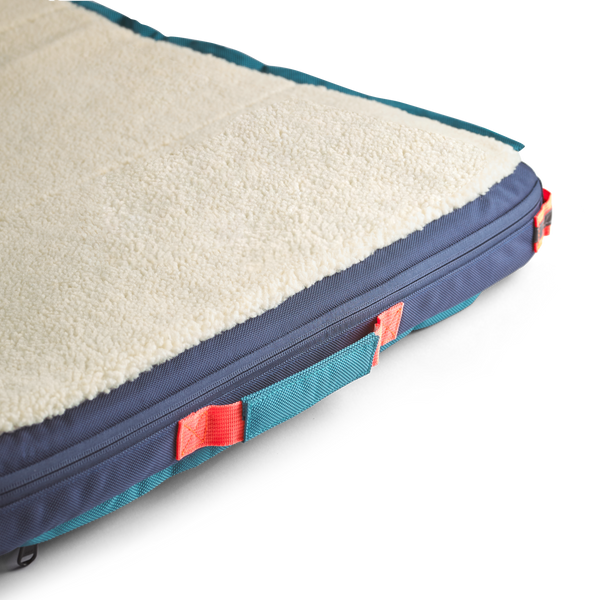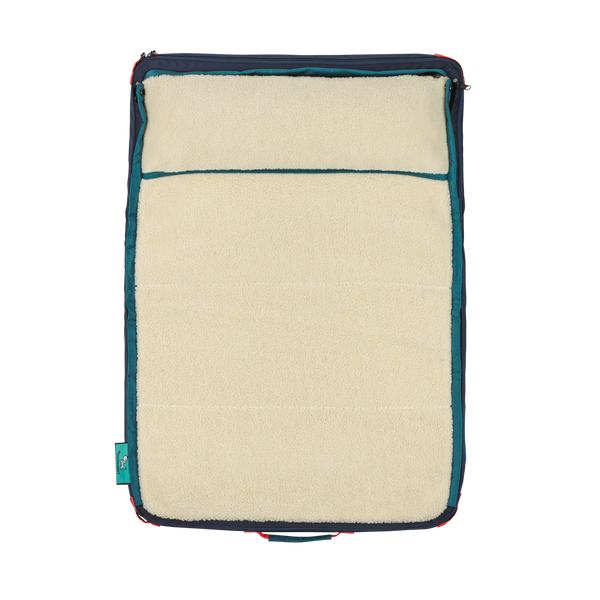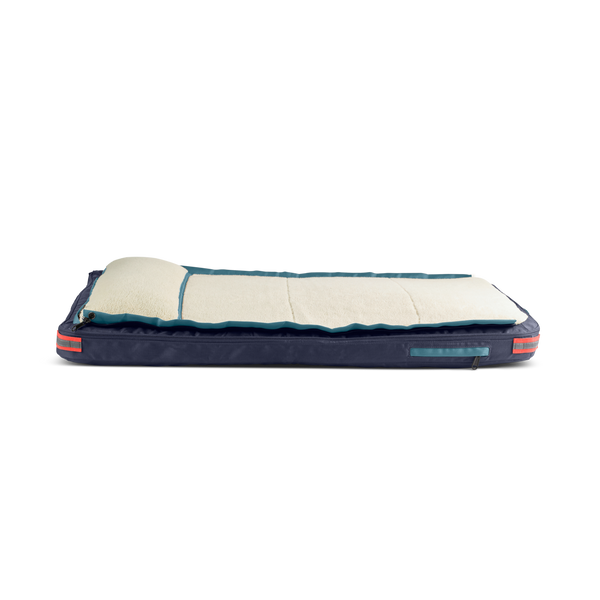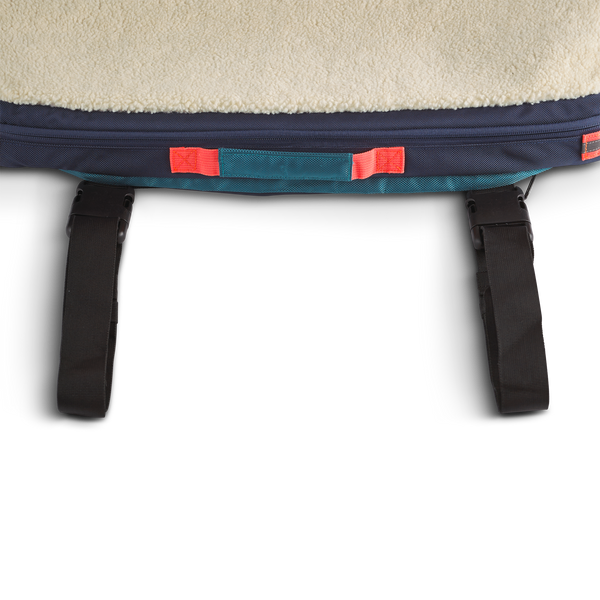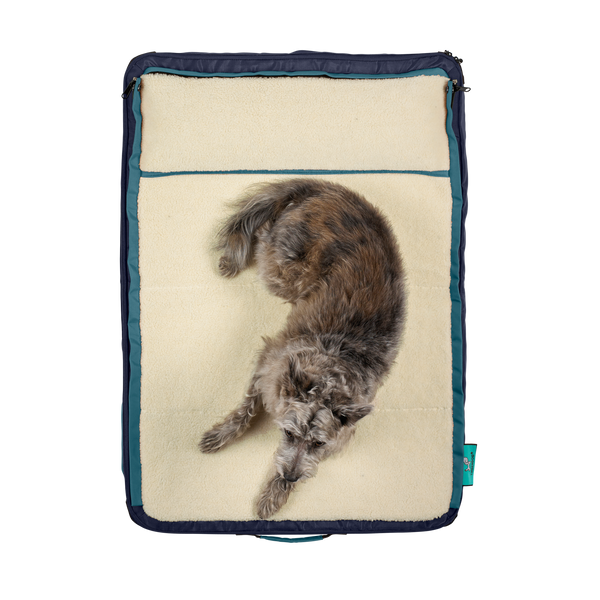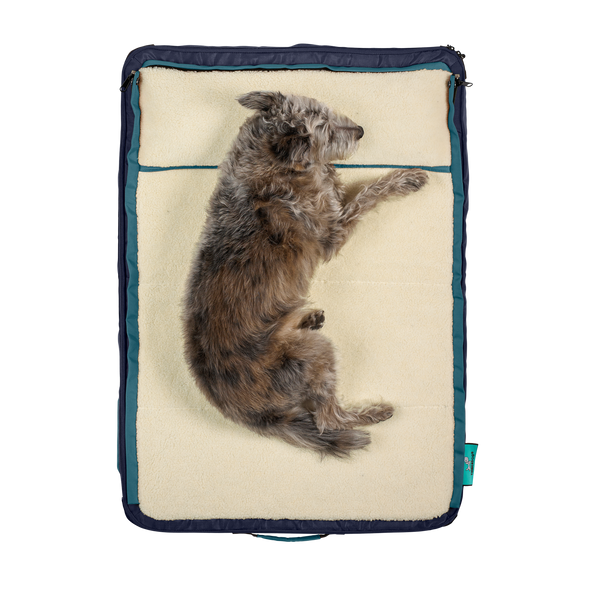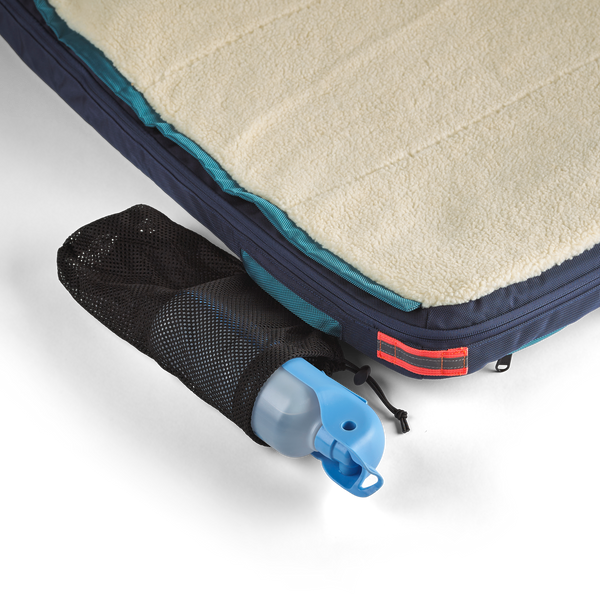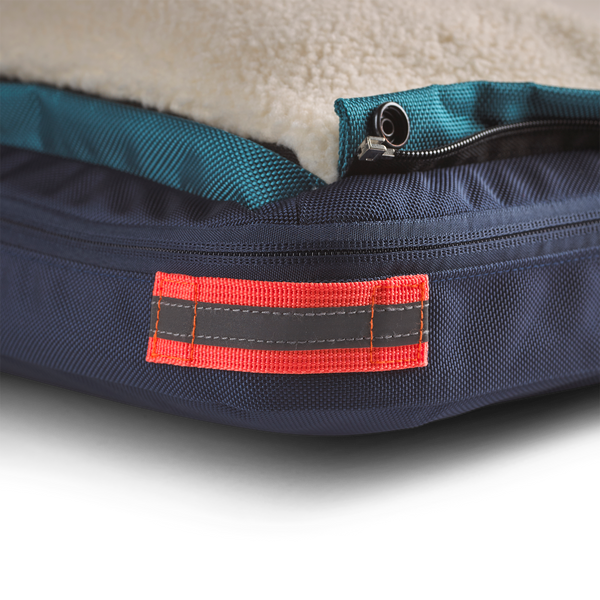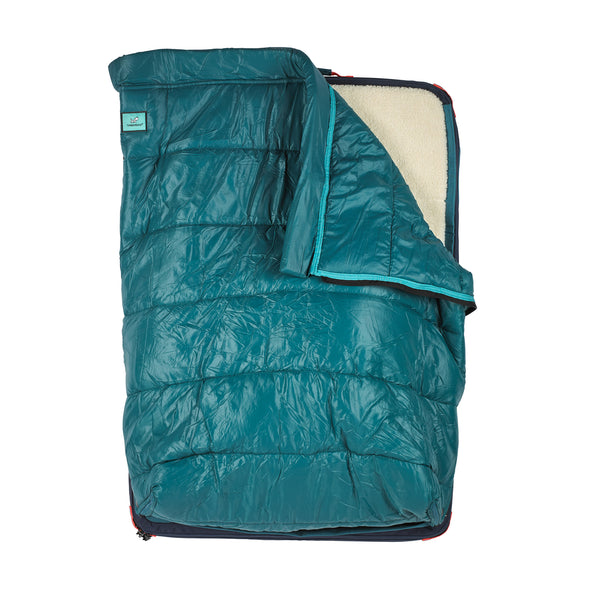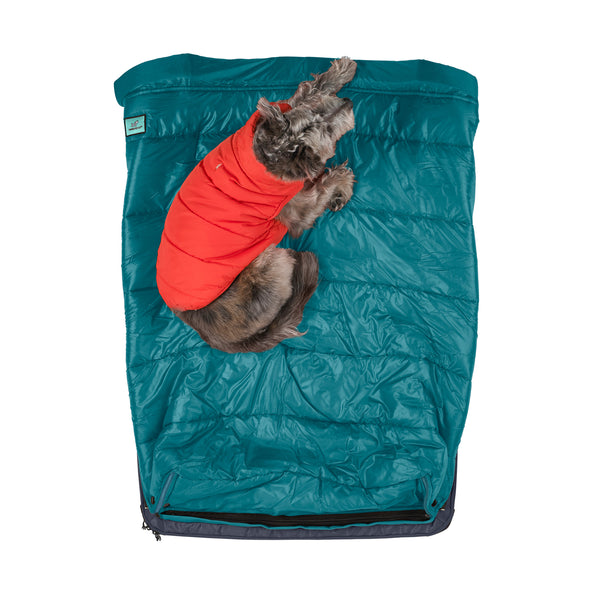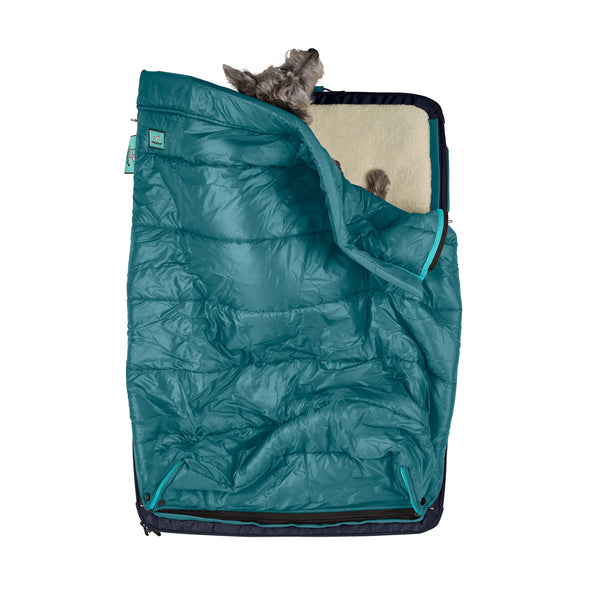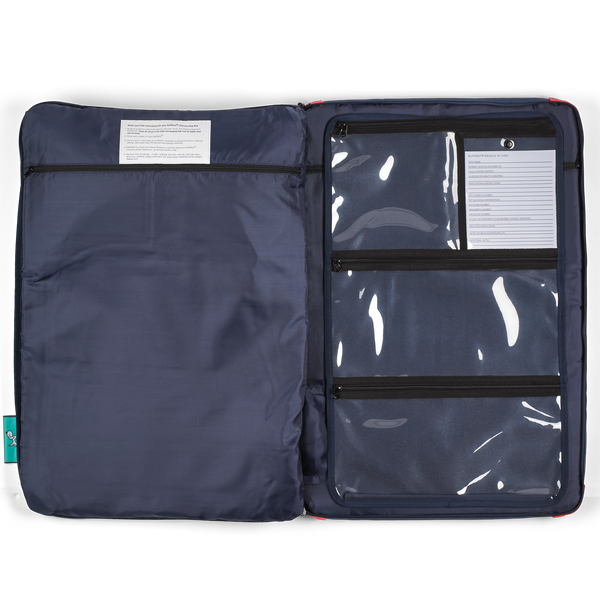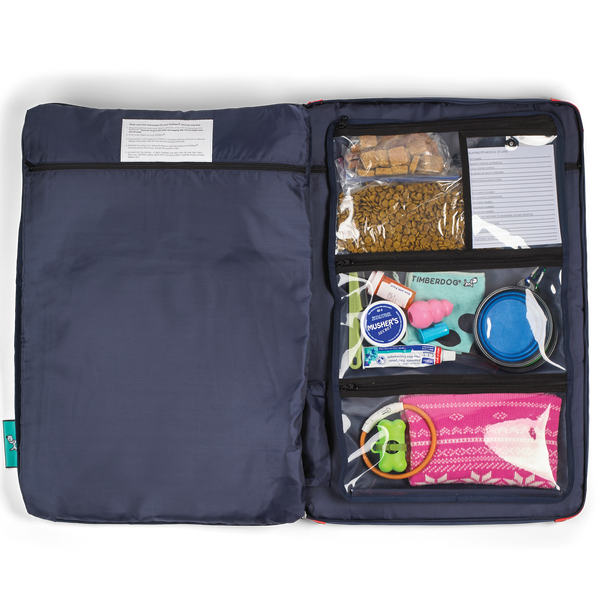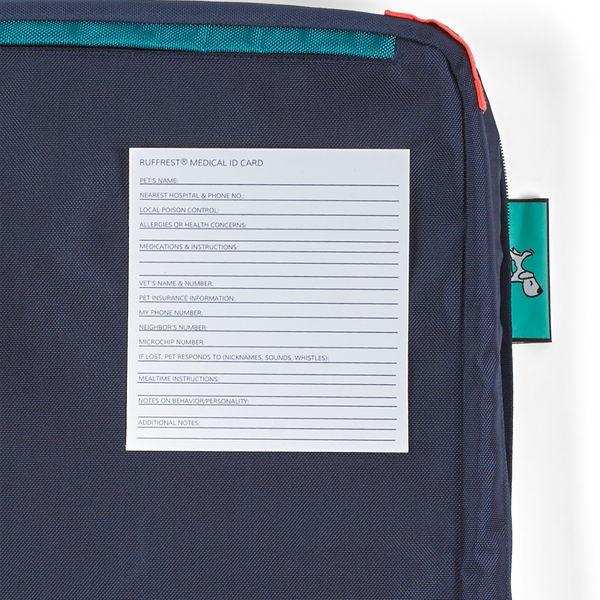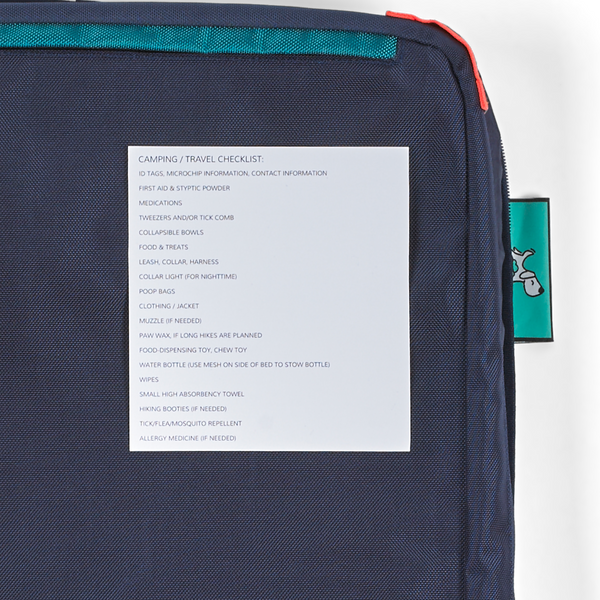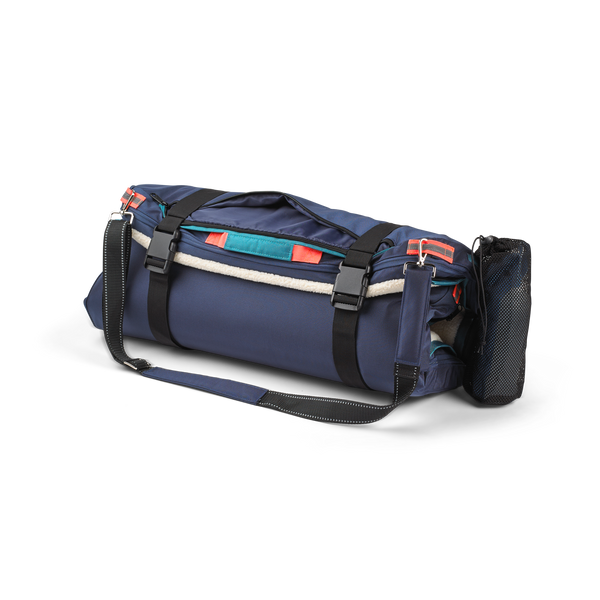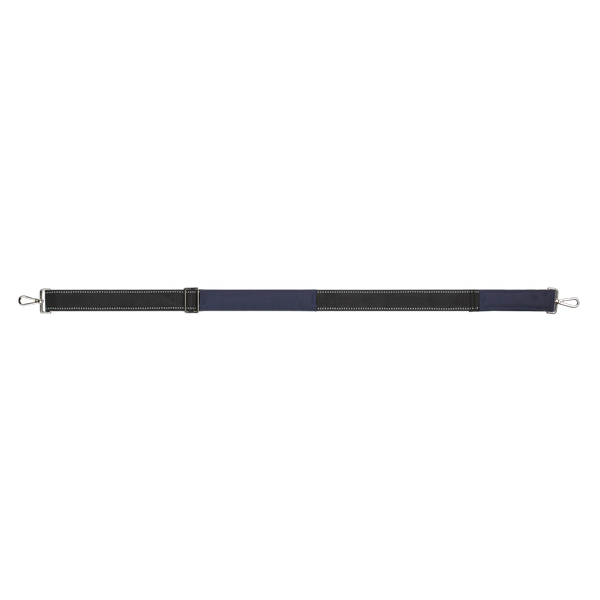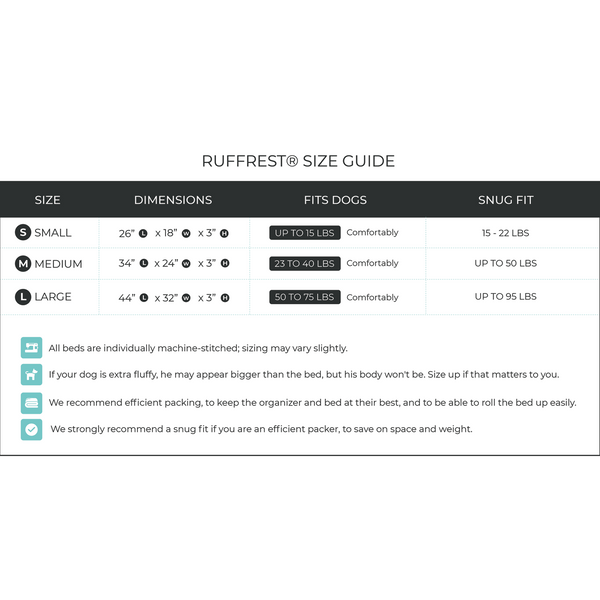 Introducing RuffRest® Sporty - a zingy, fun colorway with a cream sherpa fleece, Orion blue fabric, aqua trim, and bright tangerine accents. 

Specifications:
Weight: Small 4.5 lbs // Medium 6.6 lbs // Large 10.4 lbs
Built-in, modular, 3-season sleeping bag with temperature control vents (*Not for temps colder than 55° F/13° C*)
Hangable, at-a-glance organizer with large pockets to pack your pet's things
"See-at-night" reflective loops to hang up the bed or attach carabiners
Zipper hood trim throughout to protect your pet from zippers

Dedicated inner space that turns your pet bed into luggage

Shoulder strap that doubles as a reflective safety leash

Compression straps (*Only in medium and large beds*)

Medical/Emergency ID Card with Travel Checklist

Removable inner foams with water-proof covers

Dedicated pocket for all included straps
900D moisture-repellent nylon
Easy-to-clean sherpa fleece
Water bottle mesh pocket
Padded carry handle

Tough YKK zippers
Bolster/pillow
Tags: best dog bed for small dogs, best dog beds for small dogs, best dog bed for medium dogs, best dog beds for medium dogs, best dog bed for large dogs, best dog beds for large dogs, pet bed for small dog, pet beds for small dogs, pet bed for medium dog, pet beds for medium dogs, pet bed for large dogs, pet beds for large dogs, pet bed for small dog, pet bed for medium dog, pet bed for large dog, dog bed for small dog, dog bed for medium dog, dog bed for large dog, bolster, dog bolster, best dog blanket, best dog blankets, dog sleeping bag, cave dog bed, best rated dog bed, top rated dog beds, cute dog beds, dog pillow

Best quality dog bed I've ever purchased and fantastic customer service!
All-in-One Dog Bed and Travel Bag
As someone that travels extensively with my large breed dogs, this bed is a game changer! It is so nice to have a way to consolidate their gear, food, and bed into one easy to carry package. I haven't had the bed for long but it seems very durable and the materials appear to be high quality which I appreciate seeing in the pet industry. Honestly, I think this bed is an excellent value for the price and is a great investment for folks that travel or camp with their dogs often.
Thank you for such a wonderful review, Meg! We hope you keep using and loving your RuffRest, and that it provides you convenience for years to come. And we agree - you get a whole lot of bang for your buck - RuffRest is like 2-3 different types of dog beds in one.
A bit early but please read
I haven't received the bed yet but I'm ordering from uk so have added more work for this wonderful company and the lady behind it, she's been patient, helpful and really kind while I've asked questions both about shipping and the product as well as changing from a large to medium size bed she's messaged me back surprisingly quickly and seems to always be working to build the company and get things right for the customer so thank you. I will add to my review when I receive the product but wanted to encourage people to order from a small hardworking business
Thank you for this generous review, Georgia! We can't wait for you and your pup to use your RuffRest! We can't live without ours!
Incredible Dog Bed AND blog
The RuffRest is outstanding and lives up to all the claims made on this website. Also, for any dog parent who follows dog blogs, their blogs are amazing. I don't trust blogging anymore, generally, because everything is written with AI and random copywriters are paid to regurgitate what's on the web. But whe I read TD's blogs I can see originality. They also do not receive a penny for reviewing other companie's products. It seems that they genuinely want to help you and offer real advice from real people and experts.
Hello J. Park, we appreciate this so much. It's true. We do not use artificial intelligence, and the people who write for our blog WANT to be here. They are vetted experts in their field. And Timberdog does not profit one bit off of any suggestions we make. We support other pet brands out there and are proud to let you know about them!
Customer Service won't budge on a return
Their customer service is awful. I have been trying to return my ruffrest and they are refusing to work with me.
Hi Felix, you mentioned that you put your RuffRest in the dryer. We unfortunately do not cover dryer damage/shrinkage, as outlined several times all over our site, from the FAQs to the demo video and even in the packaging you received. We think we've been extremely fair despite our policy of not accepting returns in the instances where the customer or their dog has damaged the bed. We even offered 75% off a new bed as well as a free New Arrivals gift for your troubles. We'd like to make this transaction a good one for you - and believe we're on track to do so - so please respond to our latest email, thank you.