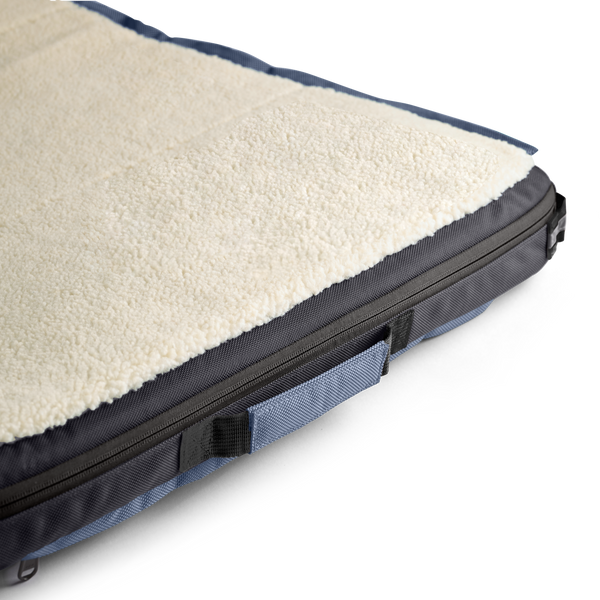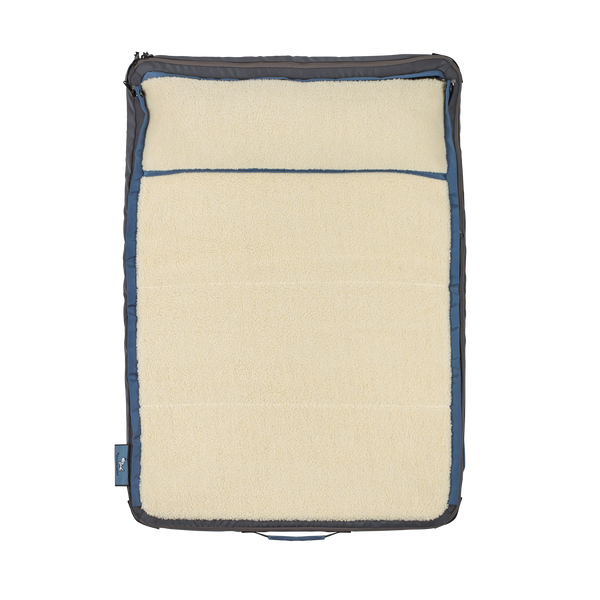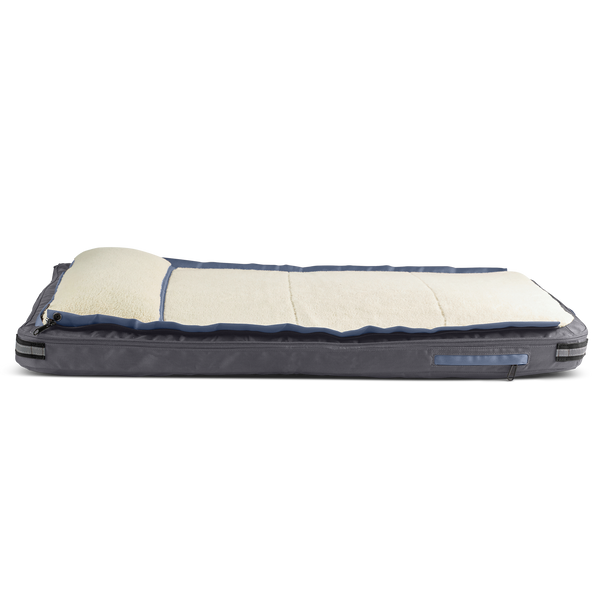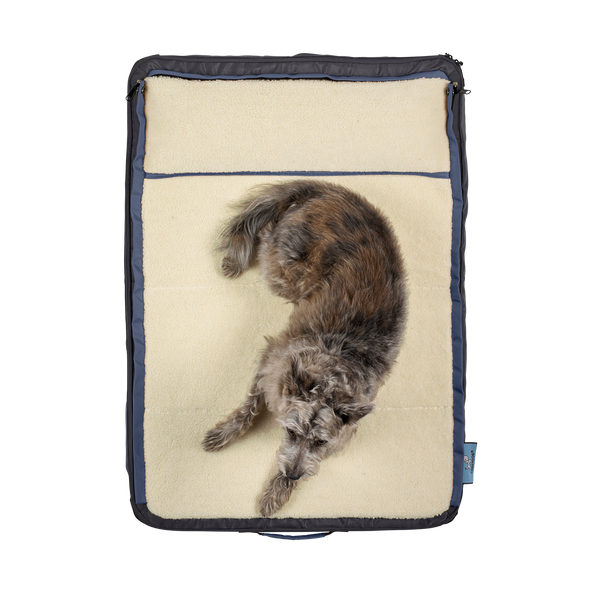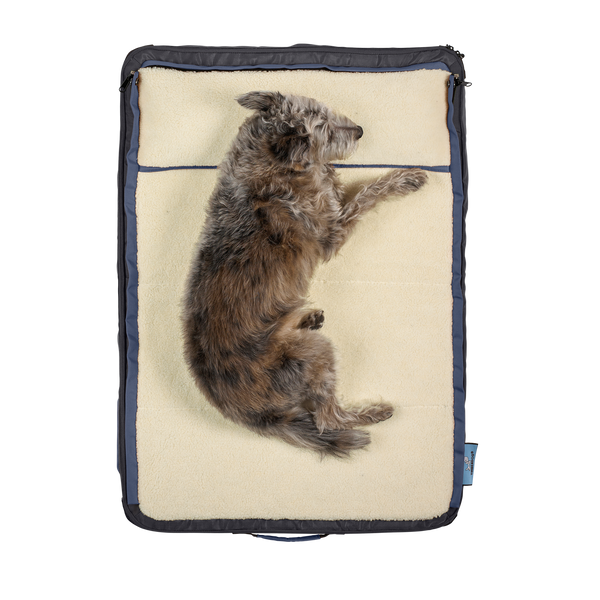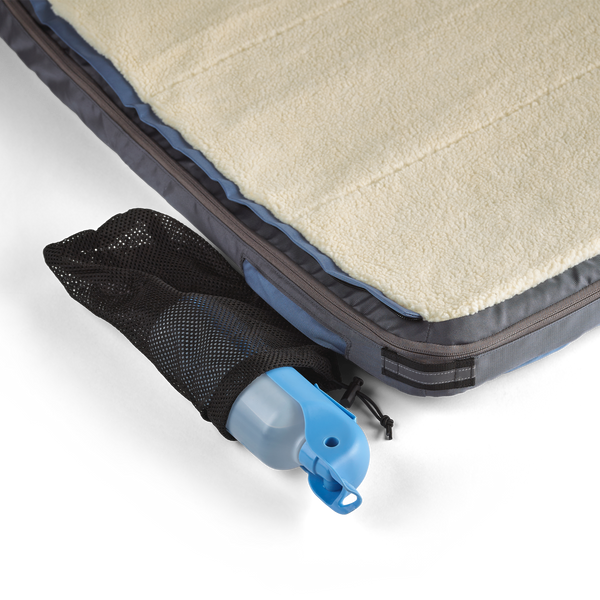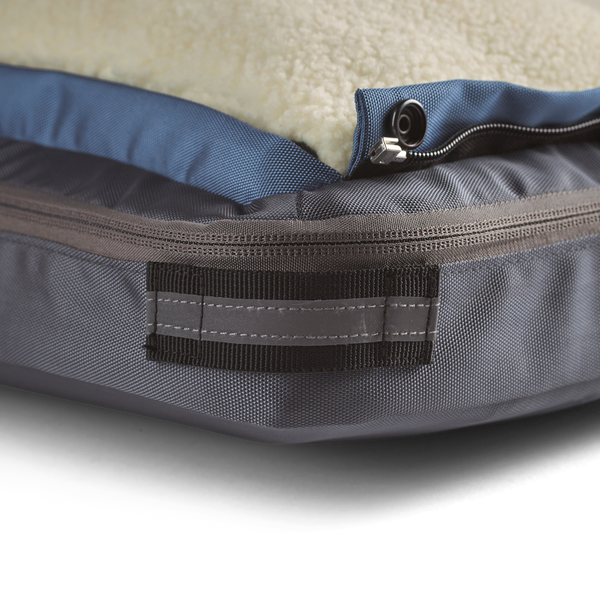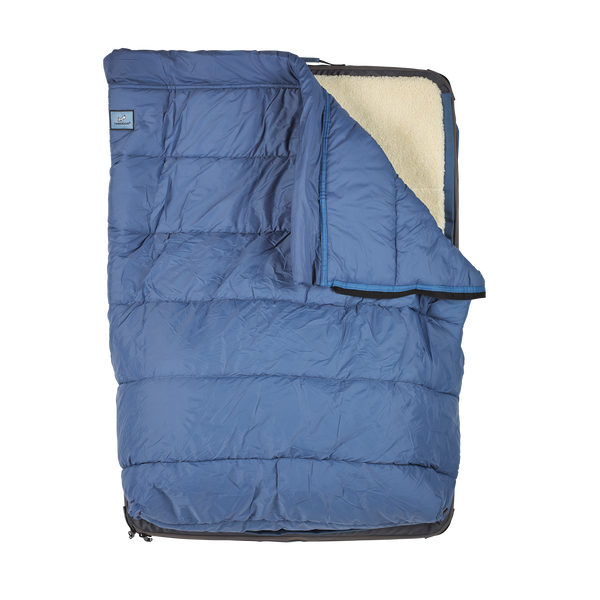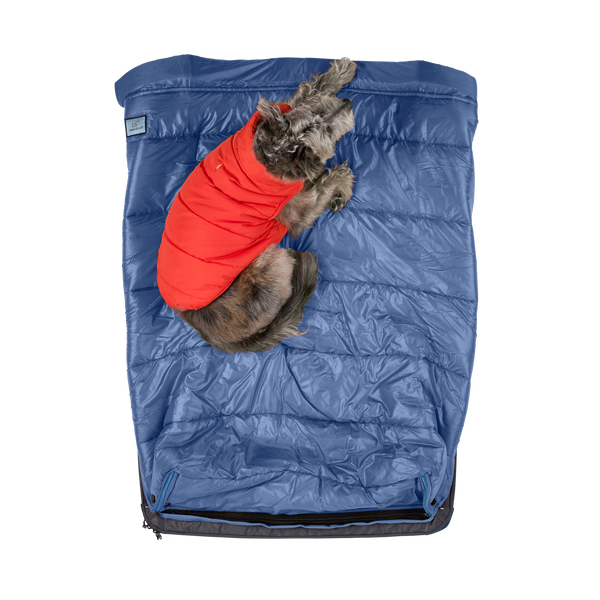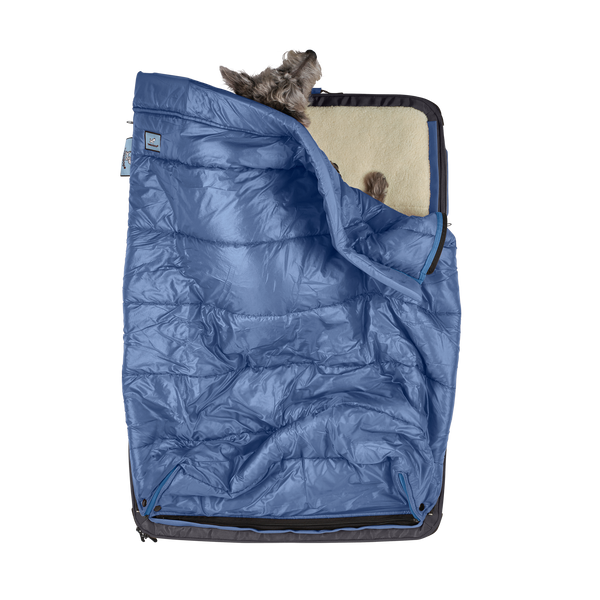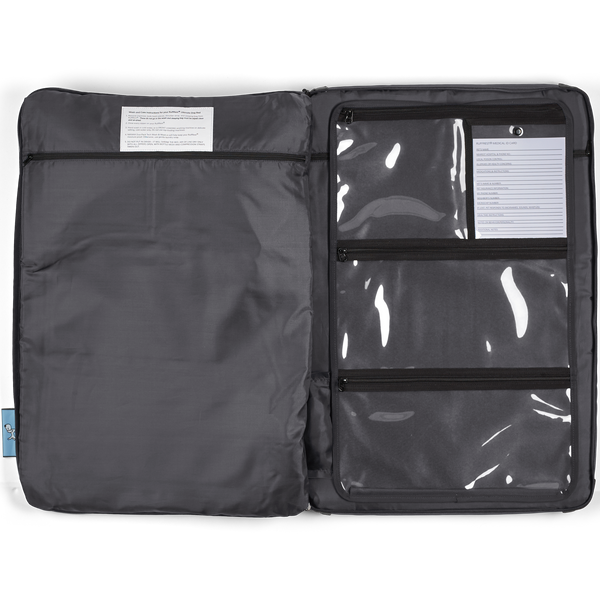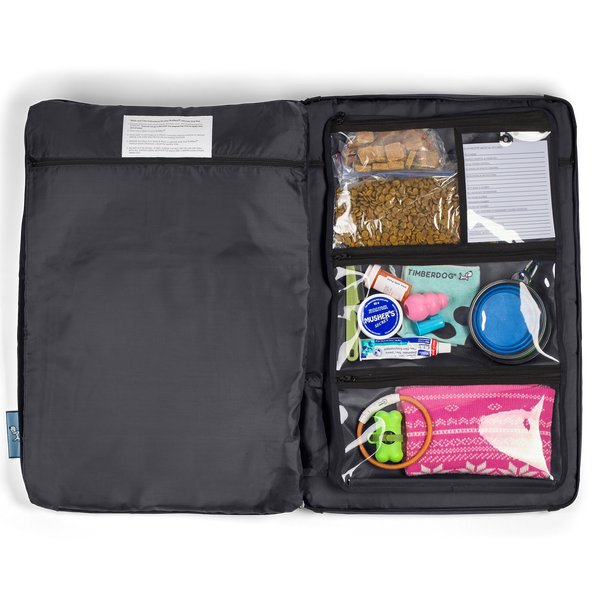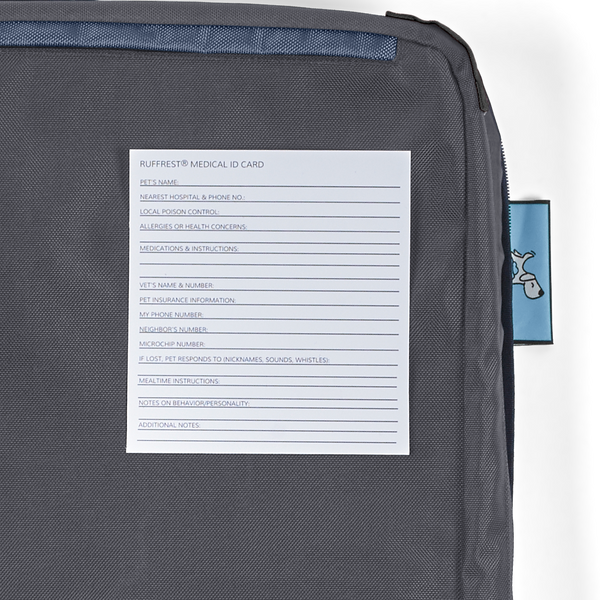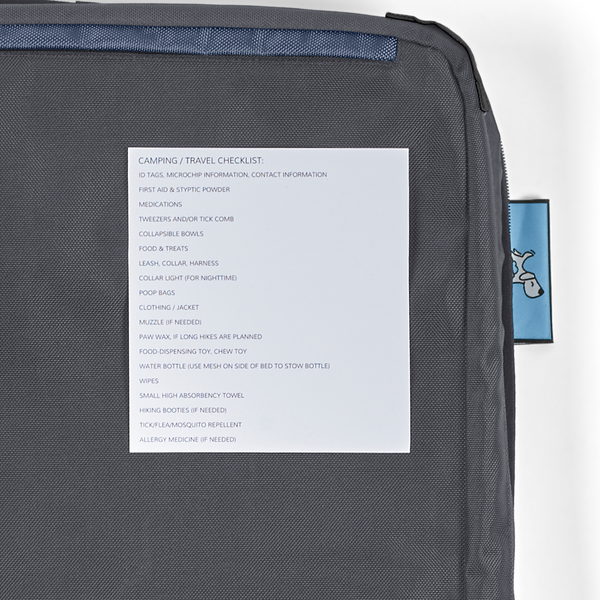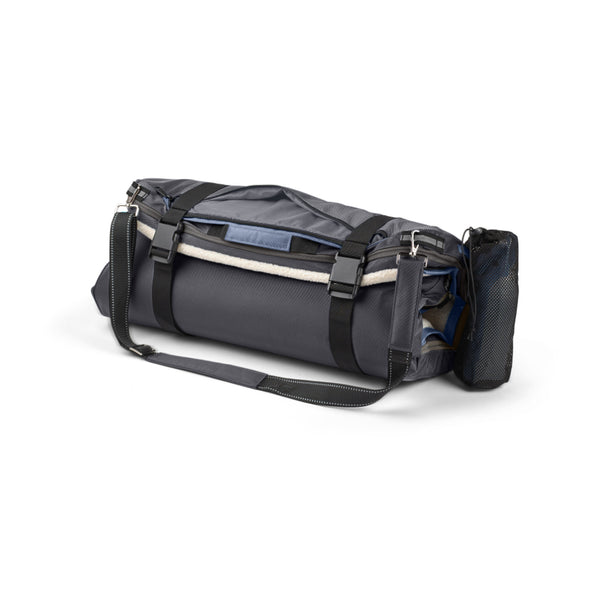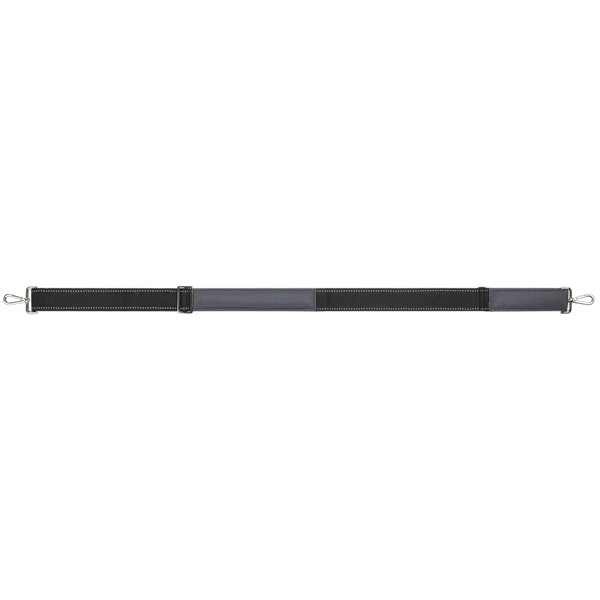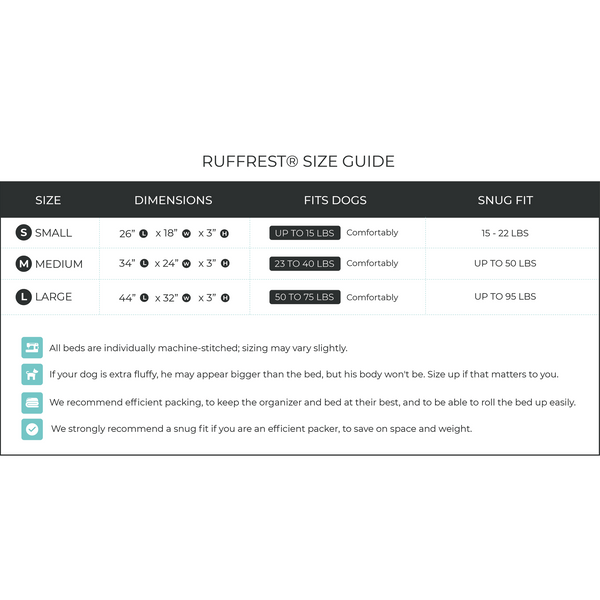 Introducing RuffRest® Stormy - a classic grey color combination that goes with everything. Features a cream sherpa fleece, storm cloud-grey fabric, muted blue trim, and black accents. 

Specifications:

Weight: Small 4.5 lbs // Medium 6.6 lbs // Large 10.4 lbs
Built-in, modular, 3-season sleeping bag with temperature control vents (*Not for temps colder than 50° F/10° C*)
Hangable, at-a-glance organizer with large pockets to pack your pet's things
"See-at-night" reflective loops to hang up the bed or attach carabiners
Zipper hood trim throughout to protect your pet from zippers

Dedicated inner space that turns your pet bed into luggage

Shoulder strap that doubles as a reflective safety leash

Compression straps (*Only in medium and large beds*)

Medical/Emergency ID Card with Travel Checklist

Removable inner foams with water-proof covers

Dedicated pocket for all included straps
900D moisture-repellent nylon
Easy-to-clean sherpa fleece
Water bottle mesh pocket

Padded carry handle

Tough YKK zippers
Bolster/pillow
Tags: best dog bed for small dogs, best dog beds for small dogs, best dog bed for medium dogs, best dog beds for medium dogs, best dog bed for large dogs, best dog beds for large dogs, pet bed for small dog, pet beds for small dogs, pet bed for medium dog, pet beds for medium dogs, pet bed for large dogs, pet beds for large dogs, pet bed for small dog, pet bed for medium dog, pet bed for large dog, dog bed for small dog, dog bed for medium dog, dog bed for large dog, bolster, dog bolster, best dog blanket, best dog blankets, dog sleeping bag, cave dog bed, best rated dog bed, top rated dog beds, cute dog beds, dog pillow

Best customer service ever!
I'm out of town so haven't actually seen the bed yet but I will comment on the customer service. There was a n issue with delivery (not timberdogs fault) and Lena was amazing. She reached, kept me informed and sent me a replacement very quickly. I will not hesitate to buy from timberdogs again. Thank you so much
Love love love this dog bed
So much thought was put into this pet bed and it shows. It takes some getting used to in terms of how to operate it but I won't remove a star for that. This bed's an investment and so is a few minutes of your time in learning how to pack and roll it up. Would give 10 stars if I could
Solid Construction
can verify that stitching on these dog beds are excellent and the nylon is as thick as they claim.
Perfect Xmas gift
Bought this as an early Christmas girt for our dog Alfie and he took right to it. Great travel bed. Will be purchasing another for our new puppy arriving in a few weeks.
What's with the whiners - the price is fine
So many complainers whining about the price. It costs what it costs and if you've actively used RuffRest you'd see why and agree. Weve had a lot of dogs in this old house of ours and have been through many pet beds. To my knowledge there is NO other pet bed out there that has it's foams wrapped individually. The reason why other pet beds are so cheap is that the foam is very easily soilable. They're banking on you chucking out your old pet bed to go buy a new one immediately. That's why Costco and Walmart's got em for like $40. Check the foam on your current pet beds folks -- they're exposed and not individually sealed. Meanwhile RuffRest uses sealed liners so if your dog has an accident or the whole pet bed gets soaked, the inner foams will remain intact. There's a bunch of other cool features but if anyone actually cared to read about how the pet bed was made they'd see that the bed is FAIRLY priced. It's luggage you guys. Luggage is not cheap. And it manages to be a pet bed at the same time and so much more.
Hi Robert! If we didn't know any better we'd swear you work in the biz! You're right about our foam. We use thick PVC covers to keep the foams dry and intact. They're not hermetically-sealed (the covers have zippers), so if you do dunk your bed in deep water for an hour, your foams will of course get water logged! However, if there are topical accidents - like urine, vomit, food, water, and other spills on top of the RuffRest, these things will not sink into the foam. We want this dog bed to outlast the competition and we've built it to tank-like specifications. Thanks for your review!